We are in a time of an unprecedented uprising in our city, state, and country in the quest for the stop of police brutality, particularly against BIPOCs at the hands of the MPD.  The violence against black bodies in our community has been long documented in our town and for our (predominantly white and white-passing) staff to make an effort to appropriately attempt to sum up the feelings of outrage that these communities have felt over these issues would be inappropriate and divert attention from the voices that need to be heard.  We stand with our BIPOC communities as independent people, and as a whole and have made the choice to delay our salon opening in order to better use our labor to fight inequality, and allow for the safest reopening possible, both in the face of violence and the current pandemic.
We do not have all the answers, and as there is a diverse group of support organizations and information to be made aware of, we are sharing this article from accredited journalists, and encourage others to share resources that directly benefit the local community funds to rebuild, hold the police accountable, facilitate bail, and support the families that have been directly affected by violence at the hands of police brutality.
-Fox Den Salon
Editor note:
We were recently approached by an organization that had some helpful tips about how to continue to be able to do the important work and outreach that is out there by ensuring that your information online is secure.  In an age when doxing, cyber attacks, and character attacks can be very harmful to one's ability to create change, we felt that these were important ideas to share as well, and are available here.
——————————————————————————————————————————————————————–
to read this article in its original form, please visit: https://www.thecut.com/article/george-floyd-protests-how-to-help-where-to-donate.html
How to Support the Struggle Against Police Brutality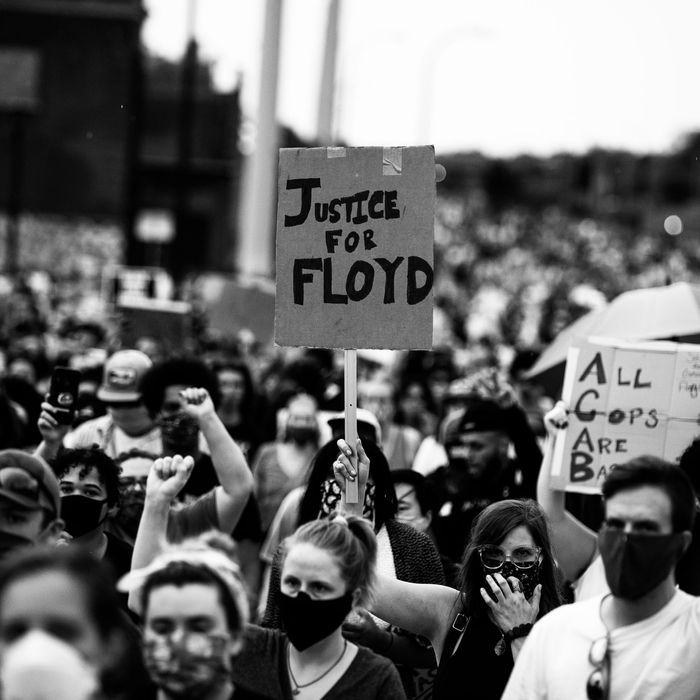 Here's what you can do to support protests against police brutality. 
Photo: Stephen Maturen/Getty Images
On Monday, a white Minneapolis police officer named Derek Chauvin knelt on George Floyd's neck until his body went limp. The assault was caught on video. Floyd, 46, gasped that he could not breathe, but Chauvin did not let up, and Floyd died from his injuries in police custody. It was the third in a string of similar deaths to make its way into national headlines this month: In March, police in Louisville, Kentucky, burst into Breonna Taylor's apartment in the middle of the night. They shot the 26-year-old eight times, killing her in her own home. And in February, two white men in a pickup truck gunned down Ahmaud Arbery while he jogged through their Georgia neighborhood. The pair admitted to fatally shooting Arbery, but were only arrested for his murder in May.
It's an unfortunately familiar pattern in the United States; this week, anger has boiled over. Minneapolis has seen massive protests over the past few days, while demonstrators across the country have gathered to demand immediate action to stop racist policing. Amid an ongoing pandemic, gathering to support one another carries unique risk, although for many, the calculation comes down to which danger is more immediate: the coronavirus, or police brutality. With that in mind, here's what you can do to safely support protests right now.
Demand police accountability from your legislators.
Make ending police brutality a litmus test for your political support. Campaign Zero — which is also accepting donations — has a comprehensive guide to policies that aim to correct broken windows policing, excessive force, racial profiling, for-profit policing, cash bail, and much more. Familiarize yourself with laws in your area, and contact your representatives — at the local, state, and national level — to press them for their plans on ending discrimination in law enforcement.
If you'd like to support accountability in the Minneapolis Police Department specifically, Reclaim the Block — a Minneapolis organization devoted to reallocating the city's money away from the police department and toward "community-led safety initiatives," to which you can also donate — has a petition that asks the city council to defund the police force, freeing up resources to promote the safety and health of the city's marginalized communities.
You could also research how much of your city's budget goes toward its police force, and demand your local lawmaker move to cut that spending and reallocate it towards other crucial areas, like housing, education, and public health. Divest-invest initiatives are underway, for instance, in New York City, Philadelphia, and Los Angeles — visit their websites and get involved. They have information on which lawmakers to contact, as well as sample scripts of what you might say.
Make a donation.
If you have money to spare right now, consider making a donation, however small it might seem to you. As you make decisions about where to send money, consider our guide on how to make sure you're donating effectively.
A few suggestions: George Floyd's family has started a GoFundMe to cover funeral and burial costs; counseling services; legal fees; and continued care for his children. There's also a GoFundMe raising money for Ahmaud Arbery's mother, donations to which will similarly fund the family's legal battle. Or, you could contribute to the GoFundMe for David McAtee's mother and family: McAtee was fatally shot just after midnight on June 1, after police officers and National Guard members fired into a crowd of people who were not taking part in the evening's protests.
You could also send your donation to an organization, keeping in mind that some — like the Minnesota Freedom Fund, the Brooklyn Bail Fund, the Northstar Health Collective, and Free Them All for Public Health — have recently begun asking donors to redirect their funds to other non-profits amid an outpouring of support. ActBlue has a page that will let you split your donation between 38 community bail funds; if you'd prefer to donate to just one fund, here's a list of bail funds by city.
Pilar Weiss — director of the Community Justice Exchange — says that donating to local, grassroots formations is potentially the most impactful way to prioritize funds. Larger, national organizations tend to attract more resources, so it's worth doing research into who's operating in your community. "A lot of times the groups that need the most support don't have fancy website and don't have a communications team," she explains. Talk to friends, families, houses of worship to figure out who is working on the issues you'd like to address, and then ask those people what they need.
Some causes you could donate to now:
• The Bail Project, a nonprofit that aims to mitigate incarceration rates through bail reform.
• The National Bail Fund Network also has a directory of community bail funds to which you can donate, along with a COVID-19 rapid response fund. Another list of funds is available here.
• Black Visions Collective, a black, trans, and queer-led social justice organization and legal fund based in Minneapolis-St. Paul.
• A Gas Mask Fund for black youth activists in Minneapolis is raising money to buy gas masks for demonstrators who've faced tear gas during protests.
• The NAACP Legal Defense Fund, which supports racial justice through advocacy, litigation, and education.
• Communities United Against Police Brutality, which operates a crisis hotline where people can report abuse; offers legal, medical, and psychological resource referrals; and engages in political action against police brutality.
• MOODI (Mobile Outreach and Outdoor Drop-In) is an initiative of the Cultural Wellness Center in Minneapolis, providing immediate response and resources for people currently without shelter.
• We Love Lake Street is gathering donations for small businesses and non-profits on Lake Street in Minneapolis, to help with the clean-up effort.
• Communities United for Police Reform is an initiative to end discriminatory policing in New York, helping to educate people on their rights and document police abuse.
• The Legal Rights Center is a non-profit law firm based in Minneapolis, offering legal defense, educational, and advocacy services.
• Showing Up for Racial Justice works to educate white people about anti-racism and organizes actions to support the fight for racial justice and undermine white supremacy.
• No New Jails NYC aims to keep the city from constructing new jails, and to instead divert funds that currently go toward the police and incarceration toward housing, ending homelessness, mental health, and other community support systems.
• The Know Your Rights Camp, an organization founded by Colin Kaepernick that provides education and training in black and brown communities, set up a legal fund for Minneapolis protestors.
• Fair Fight, an organization founded by Stacey Abrams that aims to end voter suppression and equalize voting rights and access for fairer elections.
Join a protest, if you feel you can do so safely.
If you have symptoms of the coronavirus, or if you have been exposed, or if you live with or regularly come in contact people who are at particularly high risk of contracting the virus, the best thing to do is to isolate yourself. And while it is generally true that we should continue to keep our distance from others right now, the desire to show up for your community and your loved ones is understandable. For many people, police brutality poses an immediate risk to their health and well-being, and potentially also a fatal one.
So, if you decide to participate in a local protest, wear a mask. Bring hand sanitizer, and if you can, maybe pack a few extra water bottles, for yourself and for others who might need them. Try to maintain as much distance from others as possible, and not to touch anyone else if you can. Keeping in mind that the coronavirus appears to spread primarily through droplets expelled when people talk and shout and sneeze and cough, do your best to keep your mouth covered, and to refrain from chanting if you find yourself in close quarters with others. You might also check out Vice's guide to protest participation during the COVID-19 pandemic.
Offer resources to protestors and affected communities in your area.
As protests flared around the Barclays Center in Brooklyn on Friday evening, neighbors offered participants water, food, and stoops to sit on during the demonstration. If you have the means, you might consider picking up some extra bottles of water, food, masks, hand sanitizer, and other supplies ahead of protests in your area. Providing these basics is one way to help support the cause, even if you don't feel like you can safely join in yourself.
Or, you could pick up extra groceries, household supplies — detergent, paper products, diapers, baby food, menstrual hygiene products, cleaning products, first-aid equipment — PPE, and find a donation point in your area. For example: In Minneapolis, where public transit has closed and many stores have been damaged, food pantries are in need of donations. Hunger Solutions has a list; Pimento Jamaican Kitchen is gathering supplies and looking for volunteers; or you can find a pop-up pantry. Women for Political Change also has information on supply drop-offs and donation options in the Twin Cities.
Look into donation efforts in your city, and if you have a car, consider volunteering to drop off supplies to people in need. Ask yourself: "What do you have available?" Weiss suggests. "Is it money, is it resources, is it connections? Sometimes it can be these really small things, like, do you have meeting space you can donate to somebody? Can you be a driver for somebody?" Donating doesn't always have to mean money.
Help with a clean-up effort.
You can also help by supporting businesses owned by people of color in areas where they've been damaged. In Minneapolis, community clean-up events started over the weekend — the Free Hugs Project launched rebuilding efforts last weekend, for example, and Support the Cities has information on Lake Street clean-up initiatives and grocery drop-offs — and will be ongoing. Volunteers will need shovels, trash bags, brooms, gloves, water, and whatever other supplies they can contribute. Things like plywood may also be useful.
Educate yourself, educate others — particularly if you are white.
Take the time to learn how systemic racism operates in this country, particularly if you are a white person. Indeed, among the best things white people can do is to take the time to educate themselves on the experience of being black in America — here are some suggestions if you're looking for a starting point — and start talking to other white people.
"One of the challenges is, white people want to call people of color and say, 'What am I supposed to do,' which puts a tremendous burden on people of color," Carla Wallace, a co-founder of Showing Up for Racial Justice, tells the Cut. "Our work is to move other white people."
Anti-racism demands that we identify the hierarchies and power structures that have always awarded privilege to white people, and look at them honestly. Showing Up for Racial Justice developed a tool kit with Color of Change, and also has tips for calling people into conversations in a manner that doesn't prompt defensiveness. You hear someone griping about the riots and violence at certain protests? Talk to them about the despair, the pain, and the anger at the center, and where that comes from. You hear someone wonder what privilege a broke white person has? Talk to them about what it's like to not have to worry about your personal safety while moving through your day: jogging down a residential street, or walking home from a convenience store. But, Wallace recommends, exercise empathy over the urge to reproach.
"Unless we get more white people to end white silence, our silence will always be used by those in power to not make the changes that are needed. The majority of white people in this country are still on the side of business as usual," Wallace says. "If 10,000 white people showed up tomorrow on the steps of Louisville's City Hall, you can bet the mayor would fire these police officers who killed Breonna Taylor. …We have to win a significant number to stand with black, brown, and indigenous communities for the justice that we all need in this country."
If you have kids, talk to them.
Although parents may find these conversations painful and complicated, it's important talk to your kids about what's happening right now — even if your kids are young. White parents of white children can help their children understand racial injustice, and the concept of privilege, early on. Wallace points to Raising Race-Conscious Children for suggestions on how to approach these conversations.
This article has been updated.
We're committed to keeping our readers informed. 
We've removed our paywall from essential coronavirus news stories. Become a subscriber to support our journalists. Subscribe now.